TSKT's Vision
TSKT's Vision
TSKT Co.,Ltd. was established in Thailand as a business entity on 2001 with a registered capital of THB 30 million. The primary objective is to be a manufacturer tooling Die, the key materials for our product are Flexible Printed Circuit (FPC). FPC is essentially an accuracy cutting dimension by Die and Other materials can be stamped and majority of Die for electronic appliances.
Setting the trend of new era and developing the next generation
MD's Focus
MD's Focus
All of the time, we attempt to produce Die by use concept of quality is the first, since its foundation in Thailand, TSKT Co., Ltd has developed operation with the focus on die fabrication for flexible printed wiring board and other electric parts produce of personal computers, mobile phones, digital cameras and other electric devices where miniaturization, lighter weights, and superior functions have generated equipments that would have been unmaginable before. Flexible printed wiring boards play a crucial role in achieving superior compactness and superior functions. Today most of flexible printed circuit board were manufactured with our Quick Die Change (QDC) method.
Thanks to our constant emphasis on creativity, our dies enjoy an outstanding reputation for high precision, reliability, short delivery-time, and ease-of-use, you can find TSKT spirit of accepting any challenge in the many fine produce manufactured from our facilities.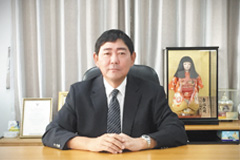 Mr. Hideki Fukuda
(Managing Director)